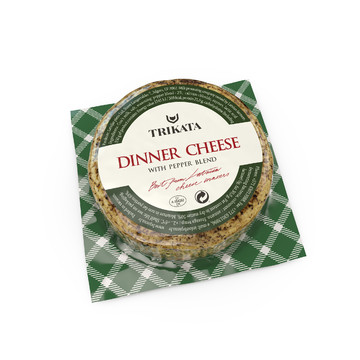 Product name

TRIKATA DINNER CHEESE

Product group
Dairy products and eggs
Product subgroup
Cheese,
Semi-hard cheese
Product code
0406
Product line
Trikata
Dinner cheese is a fresh semi-hard cheese rolled in pepper blend. The cheese is soft and high in moisture. The mild taste of the cheese goes perfectly with spicy pepper.
| | |
| --- | --- |
| Product weight NET | 350 Gram (g) |
| Product weight GROSS | 350 Gram (g) |
| Storage terms (days) | 120 |
| Storage temperature min (C) | 2 |
| Storage temperature max (C) | 6 |
| Storage conditions | Dry and cool place |
| Kind of packaging | Other |
| | |
| --- | --- |
| Company name | Latvijas Piens |
| Registration number | 40103343655 |
| Address | Jelgava, Langervaldes iela 7, LV-3002 |