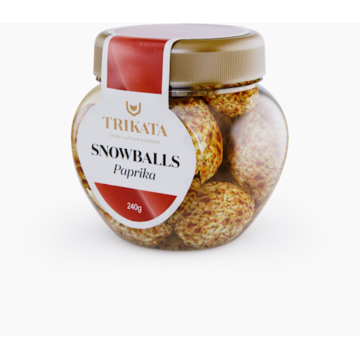 Product name

TRIKATA SNOWBALLS WITH PAPRIKA

Product group
Dairy products and eggs
Product subgroup
Cheese,
Fresh cheese
Product code
0406
Product line
Trikata
Snow Balls with paprika is a fresh cheese made from cow's milk. It is unique thanks to its soft texture and original production technique. Paprika seasoning give it mildly sharp and sweet taste.
| | |
| --- | --- |
| Product weight NET | 240 Gram (g) |
| Product weight GROSS | 240 Gram (g) |
| Storage terms (days) | 180 |
| Storage temperature min (C) | 2 |
| Storage temperature max (C) | 6 |
| Storage conditions | Dry and cool place |
| Kind of packaging | Other |
| | |
| --- | --- |
| Company name | Latvijas Piens |
| Registration number | 40103343655 |
| Address | Jelgava, Langervaldes iela 7, LV-3002 |