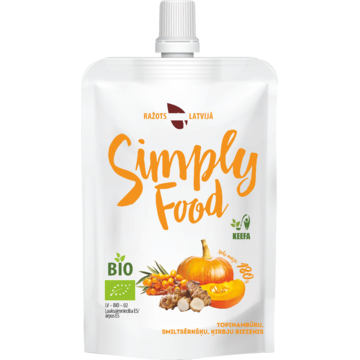 Product name

SUNROOT, PUMPKIN AND SEA-BUCKTHORN PUREE "SIMPLY FOOD"

Product group
Vegetables, fruits, nuts & seeds
Product subgroup
Vegetables,
Prepared or preserved
Product code
2007 10
Product line
Simply Food
Simply Food is a nourishing, low-calorie, product. It is made from organic fruits, berries and vegetables, thus ensuring the consumption of vitamins. Not made form concetrate.
| | |
| --- | --- |
| Product weight NET | 180 Gram (g) |
| Product weight GROSS | 190 Gram (g) |
| Ingredients | Sunroot, pumpkin, sea-buckthorn, sugar |
| Storage terms (days) | 180 |
| Storage temperature min (C) | 2 |
| Storage temperature max (C) | 25 |
| Storage conditions | Dry and cool place |
| Kind of packaging | Packaging from composite materials |
| Units per box | 12 |
| Boxes per pallet | 92 |
| Production capacity (per month) | 10000 Items |
| Price per unit (EUR) | 1.10 |
| | |
| --- | --- |
| Company name | KEEFA |
| Registration number | 43603047390 |
| Address | Bauskas nov., Stelpes pag., Beitiņi, "Dabīgas pārtikas ražotājs", LV-3925 |