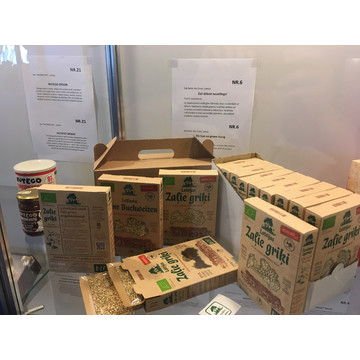 Product name

GREEN BUCKWHEAT ORGANIC

Product group
Cereals and cereal preparations
Product subgroup
Groats & meals,
Buckwheat
Product code
1008
Product line
My family
Our product is environmentally friendly green buckwheat organic. We know everything about our buckwheat and we are proud of the quality of our product. We offer the best of nature.
| | |
| --- | --- |
| Product weight NET | 250 Gram (g) |
| Product weight GROSS | 280 Gram (g) |
| Product volume (l) | 250 |
| Ingredients | 100% BIO Green Buckwheat |
| Storage terms (days) | 570 |
| Storage temperature min (C) | 2 |
| Storage temperature max (C) | 25 |
| Storage conditions | Dry and cool place |
| Kind of packaging | Packaging from natural fibre |
| Units per box | 10 |
| Boxes per pallet | 1662 |
| Production capacity (per month) | 20000 Items |
| Price per unit (EUR) | 0.88 |
| | |
| --- | --- |
| Company name | Baltic Bio Grain |
| Registration number | 40203205288 |
| Address | Rīga, Lubānas iela 17 - 9, LV-1019 |